L'exposition du souvenir aérien
The aviation rememberance exhibition
Pour la deuxième année consécutive, le Club de Modélisme et Maquettisme de Châteaubriant (CMMC 44) et l'Association Bretonne du Souvenir Aérien 39/45 (ABSA 39/45) rendent hommage aux aviateurs disparus en Bretagne et Loire-Atlantique entre 1939 et 1945.
For the second time, the Châteaubriant Model Aircraft Making Club (CMMC 44) and the Brittany Association of Aviation Memory 39/45 (ABSA 39/45) pay tribute to the airmen who missed in action in Brittany and Loire-Atlantique (Western France) between 1939 and 1945.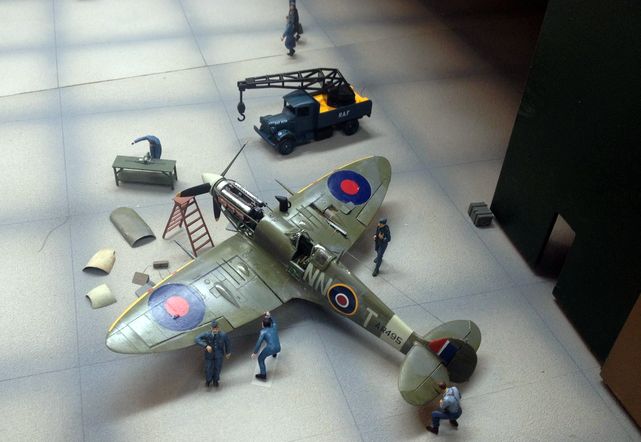 © CMMC 44
Ces deux associations exposent au marché couvert de Châteaubriant (Loire-Atlantique), les maquettes des avions de ces aviateurs héroïques au milieu de nombreuses pièces d'avions, historiques et authentiques, retrouvées au fil des ans par l'ABSA 39/45.
These two clubs exhibit in the covered market of Châteaubriant (Loire-Atlantique - Western France), the model kits of these heroic aviator's aircrafts among many historical and genuine parts of aircrafts, discovered over the years by the ABSA 39/45.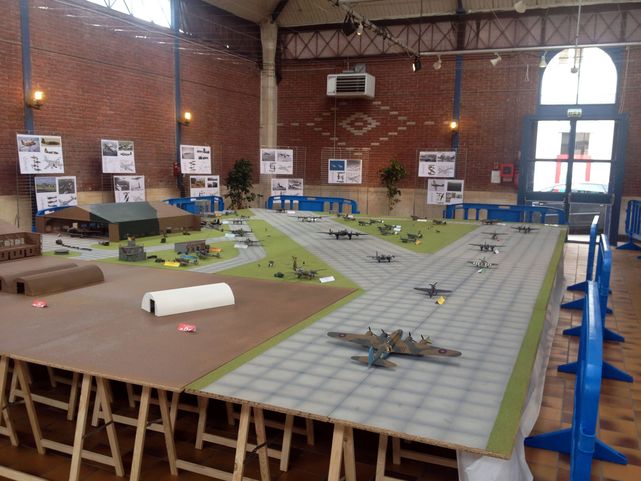 © CMMC 44
Cette fresque unique présente des avions à l'échelle 1/48° disposés sur une authentique base de la Royal Air Force (Oakington). Autour de ce diorama seront également présentées les histoires insolites et parfois héroïques de ces jeunes hommes qui ont sacrifié leurs vies pour préserver notre liberté.
This unique epic features aircrafts at the scale 1/48° laid out on an authentic Royal Air Force base (Oakington). Around this diorama, the unusual and sometimes heroic stories of these young men, who sacrificed their lives to preserve our freedom, will be also exhibited.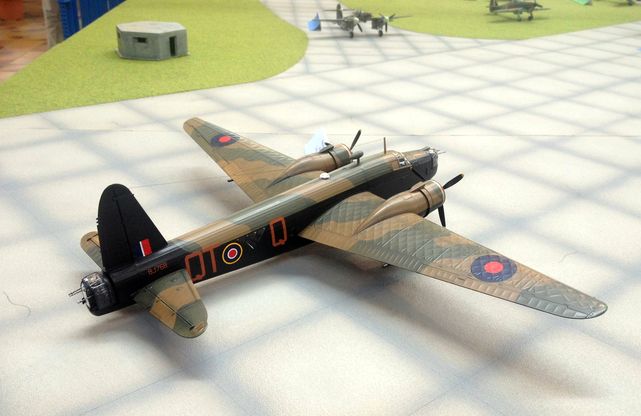 © CMMC 44
Organisée à l'occasion du 72ème anniversaire de la libération de la ville de Châteaubriant (4 août 1944), cette exposition se tiendra du 31 juillet au 7 août 2016, de 9h à 19h, au marché couvert de la ville, au 35 bis rue Aristide Briand. L'entrée est gratuite.
Organized in conjunction with the 72nd birthday of the liberation of the city of Chateaubriant (August 4th, 1944), this exhibition will be held from July 31st to August 7th, 2016, from 9 am to 7 pm, at the covered market of the city, 35 bis rue Aristide Briand. The admission is free.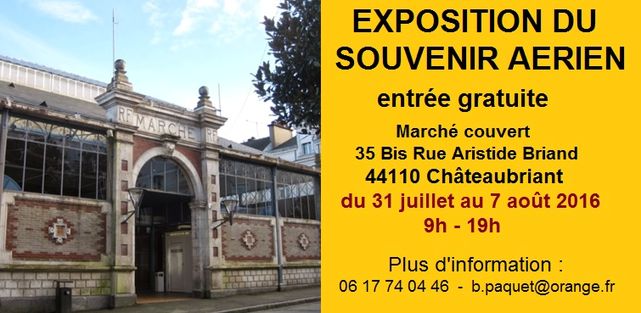 © CMMC 44

Honorer les aviateurs disparus
Honoring the missing aviators
La Bretagne et la Loire-Atlantique furent pendant la seconde guerre mondiale le théâtre de très nombreux combats aériens. De nombreux appareils anglais, américains mais également allemands furent abattus sur ce territoire. Sans parler des nombreux appareils français abattus avant l'armistice de 1940. Depuis cette période, l'histoire de ces nombreux jeunes aviateurs morts loin de chez eux reste méconnue.
Brittany and Loire-Atlantique were during the Second World War the theatre of many aerial combats. Many English, American but also German aircrafts were shot down in this region. We also must add many French aircrafts shot down before the armistice of 1940. During this period, the history of these numerous young aviators killed far from home has often remained ignored.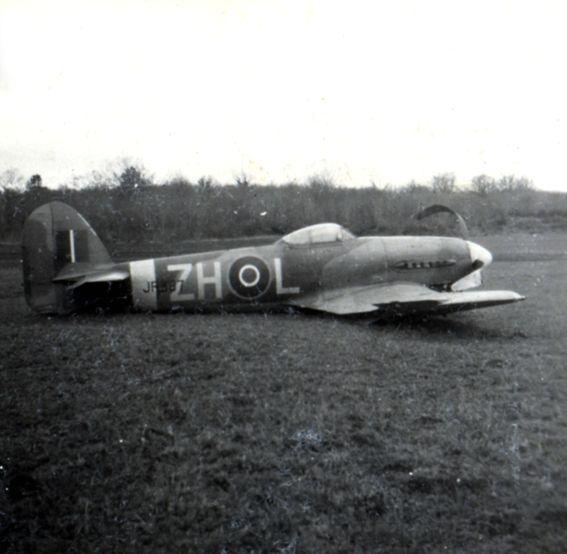 © ABSA 39/45
Une équipe de passionnés, réunis au sein des associations ABSA 39/45 et CMMC 44, a entrepris depuis de nombreuses années, de rendre hommage à ces aviateurs disparus. L'ABSA 39/45 s'est fixé comme ambition d'établir la liste des pertes aériennes, pour la région Bretagne et Loire-Atlantique. Elle récolte les témoignages de survivants de la Seconde Guerre Mondiale ou de leurs descendants, effectue des recherches sur les points de chute des avions et collecte les pièces d'avions et morceaux d'épaves. Début 2016, la Mairie de Châteaubriant a permis à l'ABSA 39/45 de stocker ces nombreuses pièces dans un local de la commune.
A team of aviation fans, gathered within both associations, the ABSA 39/45 and the CMMC 44, started many years ago to pay tribute to these missing aviators. The ABSA 39/45 has the ambition to list all air losses in the area Brittany and Loire-Atlantique. It collects testimonies from survivors of the Second World War or from their descendants, carries out investigations where aircrafts were shot down and collects parts of aircrafts wrecks. Early 2016, the city of Chateaubriant allowed the ABSA 39/45 to store these parts in a dedicated building.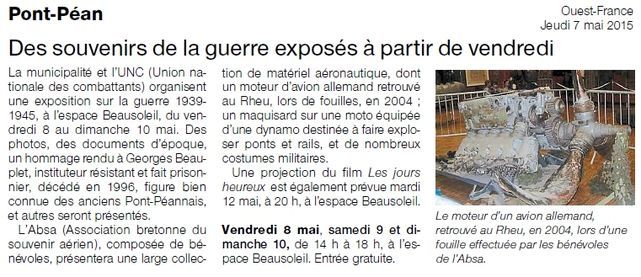 © ABSA 39/45
Le CMMC 44 a entrepris en 2013 de réaliser un décor reproduisant la base aérienne anglaise d'Oakington sur laquelle on retrouve les maquettes au 1/48° des avions tombés en Bretagne et Loire-Atlantique. Ce projet, appelé "AA", a déclenché un véritable engouement de maquettistes partout en France qui ont ainsi accepté de réaliser les différents modèles d'avions exposés. Ces différents maquettistes se retrouvent régulièrement sur le forum FIGHTERS.
The CMMC 44 started in 2013 to make a diorama featuring the English Oakington air base on which are exhibited 1/48° models of aircrafts shot down in Brittany and Loire-Atlantique. This project, called "AA", has motivated different model makers everywhere in France to make the models of these aircrafts. These different model makers regularly communicate together on the forum FIGHTERS.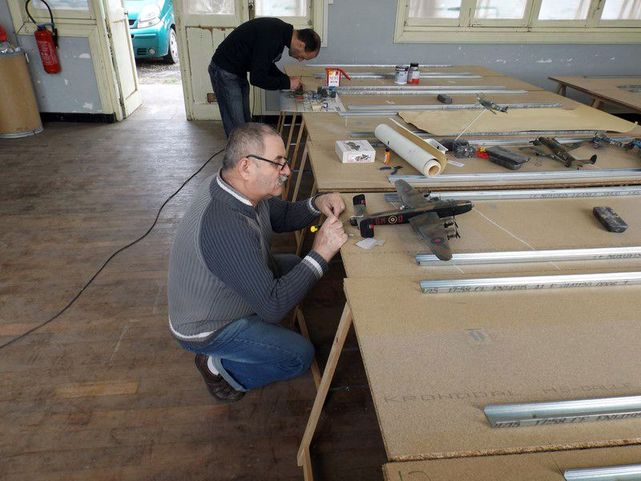 © CMMC 44

Projet du musée du souvenir aérien
Project of air memory museum
x